Texas Governor Abbott Sends First Busload of Illegal Migrants to Lori Lightfoot's Chicago By Margaret Flavin  for The Gateway Pundit
Texas Gov. Greg Abbott announced Wednesday that he has bused migrants from Texas to Chicago. Enjoy your new citizens, Mayor Lightfoot.
click image to enlarge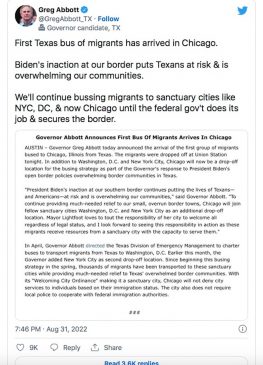 Support Our Site

Now is your chance to support Gospel News Network.
We love helping others and believe that's one of the reasons we are chosen as Ambassadors of the Kingdom, to serve God's children. We look to the Greatest Commandment as our Powering force.
The Office of Texas Governor Abbott released the following statement:
Governor Greg Abbott today announced the arrival of the first group of migrants bused to Chicago, Illinois from Texas. The migrants were dropped off at Union Station tonight. In addition to Washington, D.C. and New York City, Chicago will now be a drop-off location for the busing strategy as part of the Governor's response to President Biden's open border policies overwhelming border communities in Texas.

"President Biden's inaction at our southern border continues putting the lives of Texans—and Americans—at risk and is overwhelming our communities," said Governor Abbott. "To continue providing much-needed relief to our small, overrun border towns, Chicago will join fellow sanctuary cities Washington, D.C. and New York City as an additional drop-off location. Mayor Lightfoot loves to tout the responsibility of her city to welcome all regardless of legal status, and I look forward to seeing this responsibility in action as these migrants receive resources from a sanctuary city with the capacity to serve them."

In April, Governor Abbott directed the Texas Division of Emergency Management to charter buses to transport migrants from Texas to Washington, D.C. Earlier this month, the Governor added New York City as second drop-off location. Since beginning this busing strategy in the spring, thousands of migrants have been transported to these sanctuary cities while providing much-needed relief to Texas' overwhelmed border communities. With its "Welcoming City Ordinance" making it a sanctuary city, Chicago will not deny city services to individuals based on their immigration status. The city also does not require local police to cooperate with federal immigration authorities.
Governor Abbott has been vocal about the Biden Administration's total failure at the border especially in light of  the US Supreme Court overturning President Trump's "Remain in Mexico" policy for migrants who claim asylum.  "So this is going to be a total disaster… Let me just give you the numbers provided by the Biden administration. They predicted that after the elimination of these policies we should have about 18 thousand people coming across the border illegally, per day. Extrapolate that for an annual basis and you're going to have over six million people coming across the border a year. To put this in context the largest city in the state is Houston. We will have about one Houston coming across the border every year."