Pompeo Announces an International Alliance to Defend Religious Freedom BY JENNIFER ZENG for The Epoch Times
On the last day of the three-day Ministerial to Advance Religious Freedom, Vice President Michael Pence and Secretary of State Mike Pompeo each addressed hundreds of ministers, religious leaders, and others from 106 nations, to celebrate the "unalienable rights" of religious freedom, and to "turn convictions to action." Pompeo announced two new initiatives.
Pence said, "Since the earliest days of our nation, America has stood for religious freedom. Our first settlers left their homes and all they knew for the 'chance to begin the world over again.' They carved protections for religious liberty into our founding charters and earliest laws. And after our independence was won, the crafters of America's constitution enshrined religious liberty as the first of our American freedoms.
"Our Declaration of Independence proclaims that our precious liberties are not the gift of government, but rather they are unalienable rights endowed by our Creator. Americans believe people should live by the dictates of their conscience rather than the diktats of government."
Support Our Site

Now is your chance to support Gospel News Network.
We love helping others and believe that's one of the reasons we are chosen as Ambassadors of the Kingdom, to serve God's children. We look to the Greatest Commandment as our Powering force.
Pompeo celebrated the growth of the Ministerial to Advance Religious Freedom in his speech. "I also want to note the remarkable growth in attendance from one year to two. I hope we can keep that trend up. There are hundreds more attendees, and we thank you all for taking time out of your incredibly busy schedules to be part of it.
"It is the largest human rights ministerial ever held at the United States Department of State. It is also—with our country now some 200-plus years old, it is the largest event ever hosted by a U.S. Secretary of State ever. It's truly remarkable."
Actions
Both Pence and Pompeo noted that 83 percent of the world's population live in nations where religious freedom is either threatened or denied entirely. The both said the situation was urgent, without a moment to lose.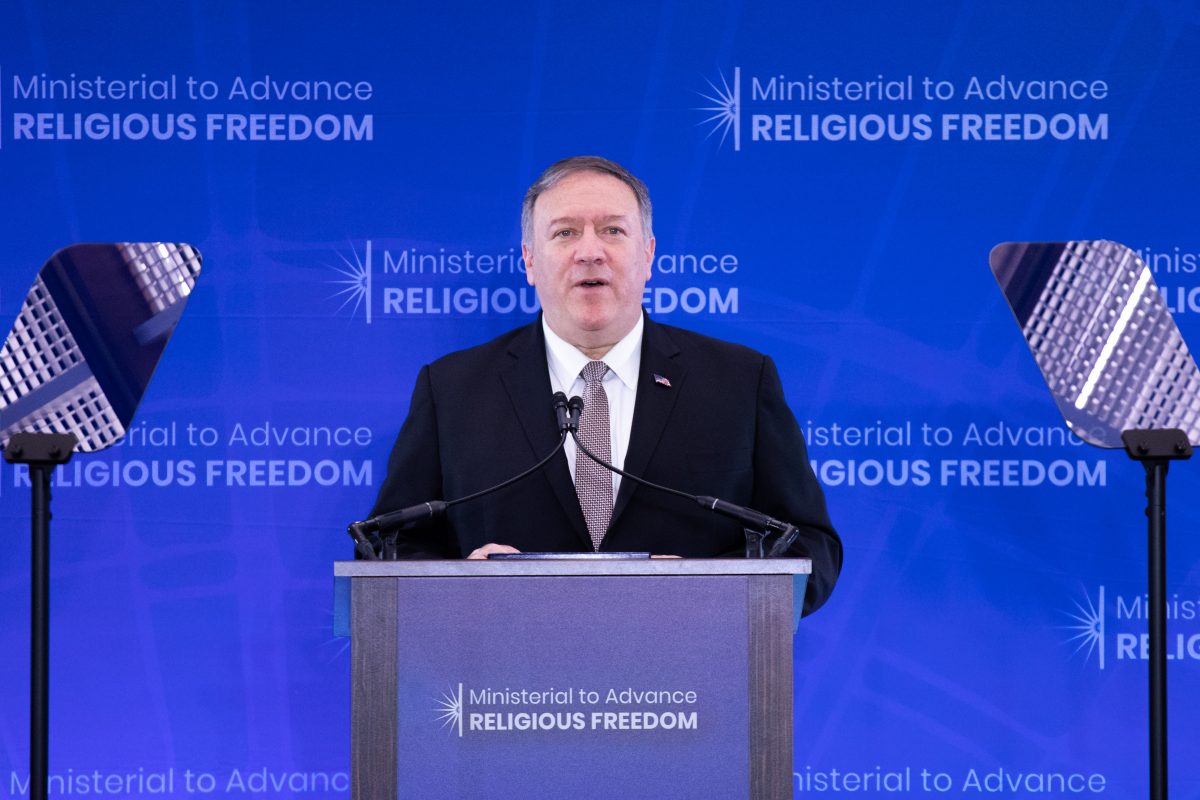 Pompeo said that it is time to "turn our convictions into action," and announced two initiatives.
"First, we've put our money where our mouth is."
Pompeo said that the State Department has established an International Religious Freedom Fund—a multi-donor fund that provides rapid assistance to victims of persecution all throughout the world. "It's already serving good, and its purpose around the world is expanding."