The Top Reasons Young People Drop Out of Church by GRIFFIN PAUL JACKSON – Christianity Today
Slightly fewer young adults are dropping out of church after high school, but those who do have more serious reasons for leaving than a decade ago.
In a 2017 LifeWay Research surveyreleased today, 66 percent of Americans between 23 and 30 years old said they stopped attending church on a regular basis for at least a year after turning 18, compared to 70 percent in 2007.
Most young churchgoers skip out on Sundays at some point amid their transition to going to college, moving away from home, or starting their first jobs. LifeWay has found that historically about two-thirds of dropouts return to services once they get older.
Support Our Site

Now is your chance to support Gospel News Network.
We love helping others and believe that's one of the reasons we are chosen as Ambassadors of the Kingdom, to serve God's children. We look to the Greatest Commandment as our Powering force.
But these days, young Christians are more likely to cite weightier political and spiritual concerns as pushing them away from the church, with 70 percent listing such beliefs as a reason for their departure in 2017 compared to about half (52%) 10 years before.
Moving for college remains the top reason young people stop attending church in both surveys, which are based on responses from more than 2,000 young Americans who attended a Protestant church regularly (twice a month or more) for at least a year during high school.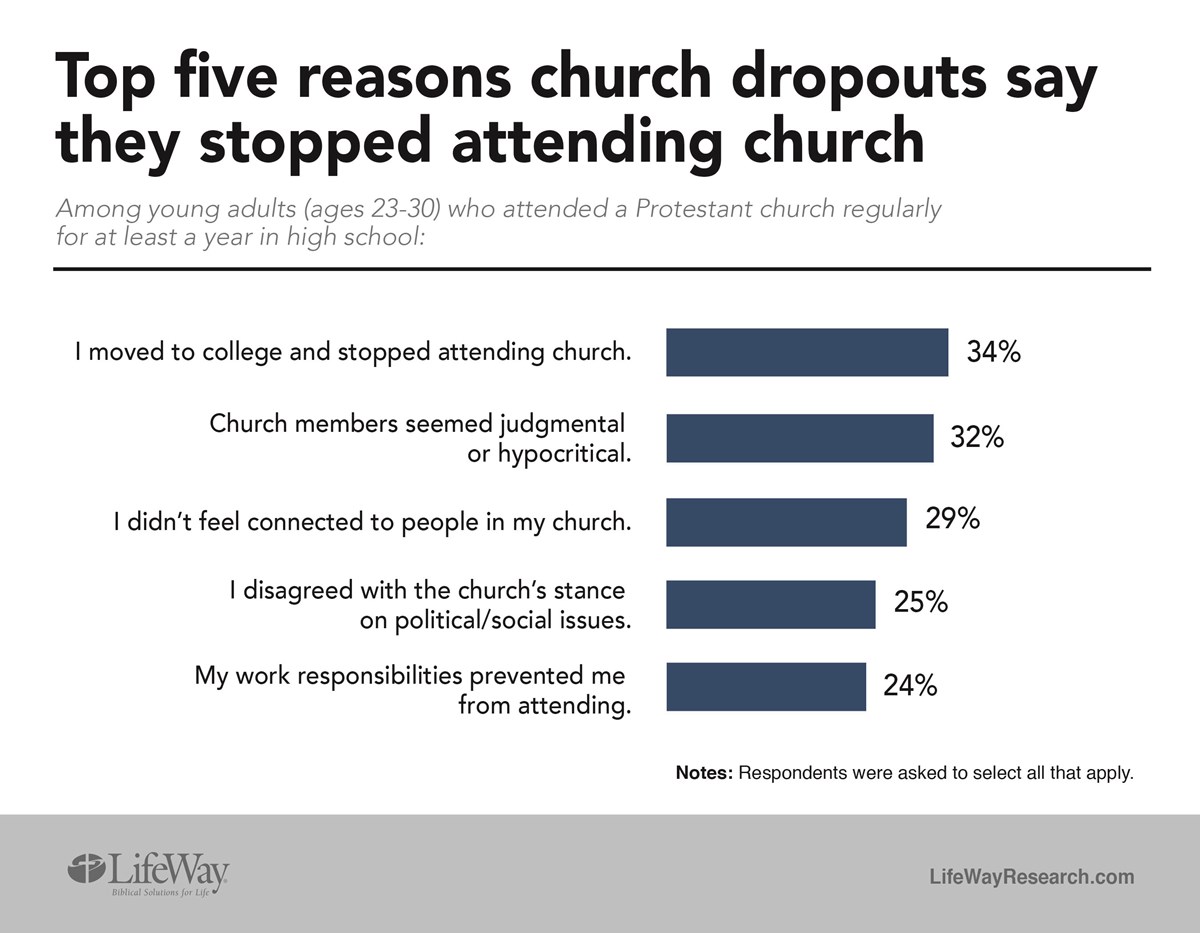 Other popular reasons to include: a perception that church members were hypocritical (32%), disconnect with church life (29%), and lack of student ministry opportunities (24%).
Political rifts between young Christians and their congregations are growing. A quarter (25%) of recent dropouts said disagreements over their church's stance on political and social issues contributed to their decision to stop attending, compared to 15 percent in 2007.
The follow-up survey came in the wake of the 2016 elections, with partisan divides over President Donald Trump's victory adding to Generation Z's growing concerns around race, social justice, and LGBT rights.
"In the past, it was possible for difficult issues like this to be brushed aside or go unaddressed entirely," Ben Trueblood, director of student ministry for LifeWay Christian Resources, told CT last year, responding to trends among Gen Z. "But that approach cripples the purpose of student ministry. Now, student ministry leaders are forced to teach what the Bible says on these issues, as well as equip teenagers to respond biblically."
In a time when many churches are "predictable clusters of the politically like-minded," as James K. A. Smith has said, it's harder for those who feel like ideological outliers to stick around. As CT reported last year, church attendance dipped among born-again and evangelical Christians across age groups after Trump's election, particularly among Hillary Clinton supporters, who may have not felt welcome in certain church contexts.