Polls: Populist National Rally Takes Lead over Macron's Party Ahead of EU Elections by Victoria Friedman for Breitbart
Marine Le Pen's National Rally is topping the polls, ahead of French President Emmanuel Macron's party, less than three weeks away from European Parliament elections.
An Ipsos poll released Sunday places Ms Le Pen's populist-right party on 22 per cent, ahead of Mr Macron's progressive La République En Marche! (LREM/Republic on the Move) which is at 21.5 per cent. In third place is the right-establishment Republicans at a distant 13.5 per cent.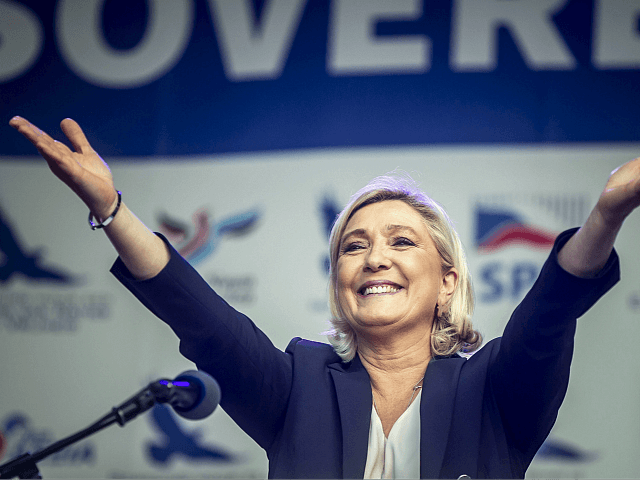 Two other recent polls also put Ms Le Pen's party in the lead: an Ifop-Fiducial survey published Friday puts National Rally on 23 per cent, LREM on 21.5 per cent; and an OpinionWay poll published Thursday puts the populists on 24 per cent followed by Macron's party on 21 per cent.
Support Our Site

Now is your chance to support Gospel News Network.
We love helping others and believe that's one of the reasons we are chosen as Ambassadors of the Kingdom, to serve God's children. We look to the Greatest Commandment as our Powering force.
Populist, patriotic parties are expected to make major gains in the EU-wide parliamentary elections between May 23rd and 26th.
The UK's Brexit Party has been holding first place for a number of weeks and is maintaining a comfortable lead, the latest YouGov poll placing the Nigel Farage-founded party at 30 per cent, followed by Labour at 21 per cent, and the Tory Party at 13 per cent.
While in Italy, populist deputy prime minister Matteo Salvini has found his right-wing League party topping the Index Research poll, published last week, at 32.8 per cent. The League's anti-establishment governing coalition partner the Five Star Movement (M5S) is at 22 per cent, and the left-wing Democratic Party is in third with 20.5 per cent.
Populists on Course to Become Largest French Party in EU Parliament Election https://t.co/7ZqyJa82Xp

— Breitbart London (@BreitbartLondon) April 20, 2019
During a trip to Bulgaria on Friday to meet with her populist counterparts from the Volya party, Ms Le Pen praised Mr Salvini's policies that brought down mass illegal migrant sea landings by 80 per cent in just one year, telling euronews, "They say up to now that they cannot control the migration problem, but he said yes we can control it and he controlled it in Italy."