Greg Locke warns Christians to 'Wake Up' following YouTube permanently Deleting his Church's channel from their platform from End Time Headlines
Controversial pastor Greg Locke (Global Vision Bible Church) announced late Thursday night (Oct. 27) that YouTube had permanently deleted his church's channel, erasing years of sermons from Locke and his church.
YouTube explained that it removed the church's channel because their content violated the platform's Community Guidelines. Content moderators labeled the violations as "severe," adding that it is their job to make sure "YouTube is a safe place for all."
Locke uploaded an image of the message YouTube sent the church to Facebook, which read:
Support Our Site

Now is your chance to support Gospel News Network.
We love helping others and believe that's one of the reasons we are chosen as Ambassadors of the Kingdom, to serve God's children. We look to the Greatest Commandment as our Powering force.
Hi Global Vision Bible Church, We have reviewed your content and found severe or repeated violations of our Community Guidelines. Because of this, we have removed your channel from YouTube.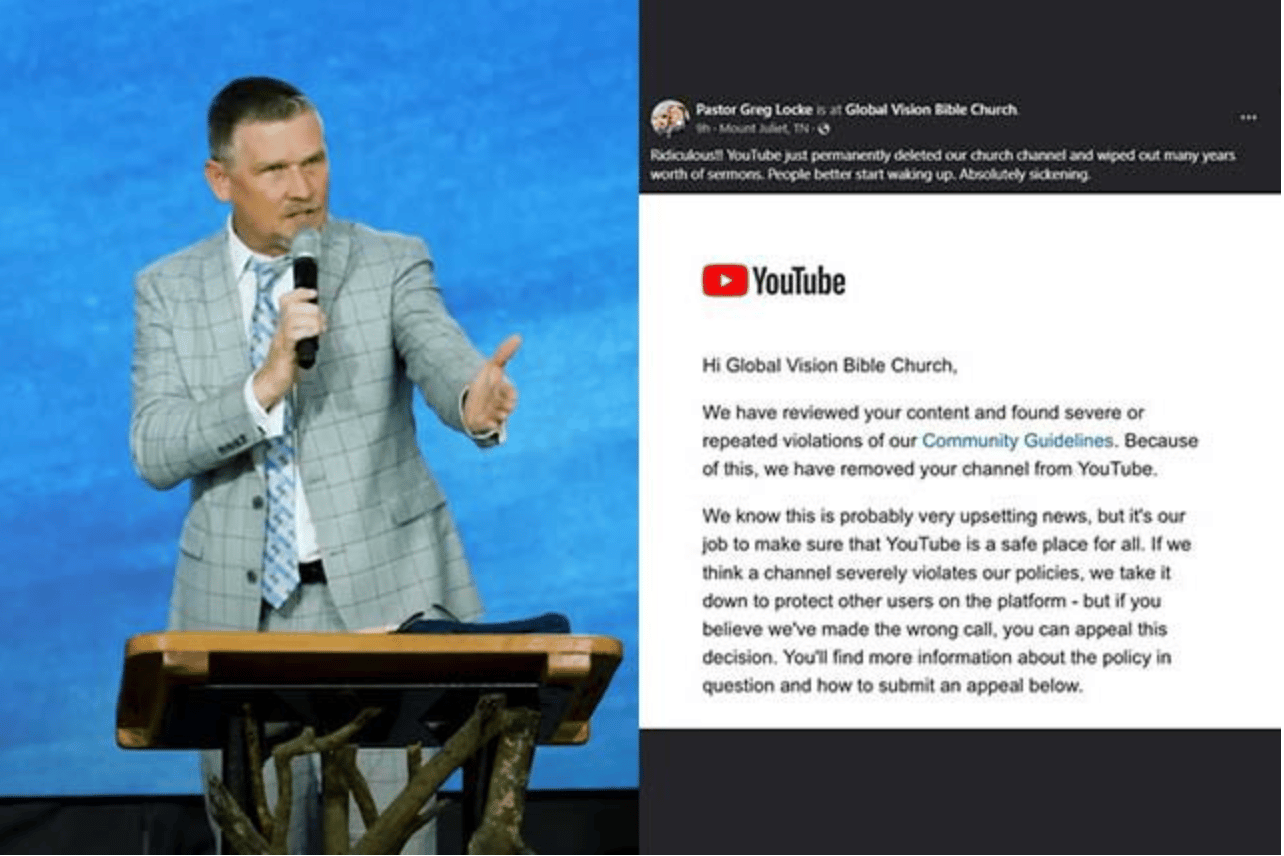 We know this is probably very upsetting news, but it's our job to make sure that YouTube is a safe place for all. If we think a channel severely violates our policies, we take it down to protect other users on the platform – but if you believe we've made the wrong call, you can appeal this decision. You'll find more information about the policy in question and how to submit an appeal below.
The Mount Juliet, Tennessee, pastor warned Christians that they "better start waking up," calling YouTube's actions "absolutely sickening." "Ridiculous," Locke wrote in the post alongside YouTube's message to his church. "YouTube just permanently deleted our church channel and wiped out many years worth of sermons. People better start waking up. Absolutely sickening."
Locke told ChurchLeaders that he wants to warn others that "Christian censorship is going to continue to increase and we need to prepare to be bullied into silence. We must not give in to the narrative, and we cannot in anyway compromise the truth. Churches need to quit playing games and get serious about standing up."
YouTube's decision comes after it removed one of Locke's sermons, titled "Why I Told Halloween To Go To Hell," stating that it had violated their Community Guidelines. Locke called that removal a "joke" and argued that the sermon, which had been up for a year, was deleted due to a "Satanic agenda." (READ MORE)