Now They Are Literally Bowing Down And Worshipping Baal Right In Front Of Our Eyes by Michael for End Of The American Dream
They aren't even trying to hide it anymore.  During the opening ceremony of the Commonwealth Games in Birmingham, England on July 28th, a giant mechanical bull with glowing red eyes was rolled out into the center of Alexander Stadium.  The bull was approximately 10 meters high, and it took more than five months to build.  It had been given the nickname "Raging Bull", and it absolutely dwarfed all of the human participants that were involved in the performance.  The "hero" of the opening ceremony, a character known as Stella, calmed the creature down and then all of the human performers gathered around the giant bull and literally began to bow down and worship it.  I have seen a lot of really weird things in recent years, but I have never seen anything quite like this.
A total of 72 nations participate in the Commonwealth Games, and so this opening ceremony was being viewed on countless television screens all over the planet.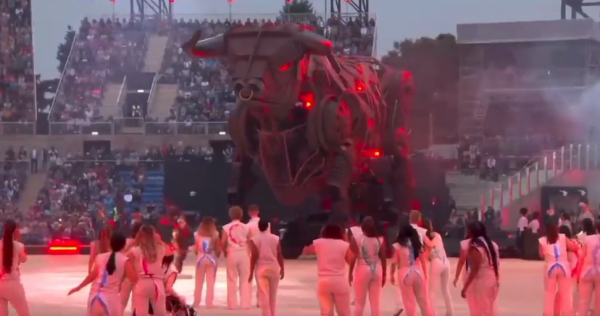 Support Our Site

Now is your chance to support Gospel News Network.
We love helping others and believe that's one of the reasons we are chosen as Ambassadors of the Kingdom, to serve God's children. We look to the Greatest Commandment as our Powering force.
The symbolism in this "ritual" was well planned in advance, and the organizers knew exactly what they were doing.
But they were also counting on the fact that the vast majority of the general population would not consciously catch on to what was actually taking place.
The bull has always been a symbol of an ancient deity from the Middle East known as "Baal".  The following comes from Christianity.com…
In artistic depictions and archeological finds, Baal took the shape of a bull or ram and had associations with fertility.

This god also, apparently according to Canaanite lore, defeated El and had associations with the sun and thunder. And of all the foreign gods the Israelites came into contact with, they appeared to struggle the most with worshipping this one.
If we could go back thousands of years and roll out a giant bull with glowing red eyes for the people of the ancient Middle East, they would instantly understand what was going on.
Nobody would need to tell them that it was a statue of Baal and that they were intended to worship it.
An article that was posted on WorldHistory.org details the period of time in which the symbol of the bull first started to become associated with Baal…