Here is The Hidden $150 Trillion Agenda Behind The "Crusade" Against Climate Change BY TYLER DURDEN for Zero Hedge
We now live in a world, where bizarro headlines such as the ones below, have become a daily if not hourly occurrence:
*TREASURY TO STUDY IMPACT OF CLIMATE ON HOUSEHOLDS, COMMUNITIES
*TREASURY LAUNCHES EFFORT ON CLIMATE-RELATED FINANCIAL RISKS
*BRAINARD: CLIMATE-SCENARIO ANALYSIS WILL HELP IDENTIFY RISKS
*BRAINARD: CLIMATE CHANGE COULD HAVE PROFOUND ECONOMIC EFFECTS
*MESTER: FED LOOKS AT CLIMATE CHANGE FROM VIEW OF RISKS TO BANKS
*FED IS TAKING THE RIGHT COURSE ON MONITORING CLIMATE CHANGE
*FED SHOULD CONSIDER CLIMATE-CHANGE RISK TO FINANCIAL SYSTEM
Now, in case someone is still confused, none of these institutions, and not a single of the erudite officials running them, give a rat's ass about the climate, about climate change risks, or about the fate of future generations of Americans (and certainly not about the rising water level sweeping away their massive waterfront mansions): if they did, total US debt and underfunded liabilities wouldn't be just shy of $160 trillion.
So what is going on, and why is it that virtually every topic these days has to do with climate change, "net zero", green energy and ESG?
The reason – as one would correctly suspect – is money. Some $150 trillion of it.
Earlier today, Bank of America published one of its massive "Thematic Research" tomes, this time covering the "Transwarming" World, and serves as a massive primer to today's Net Zero reality. The report (which is available to all ZH pro subs) is actually a must read, interesting, chock-full of data and charts such as these…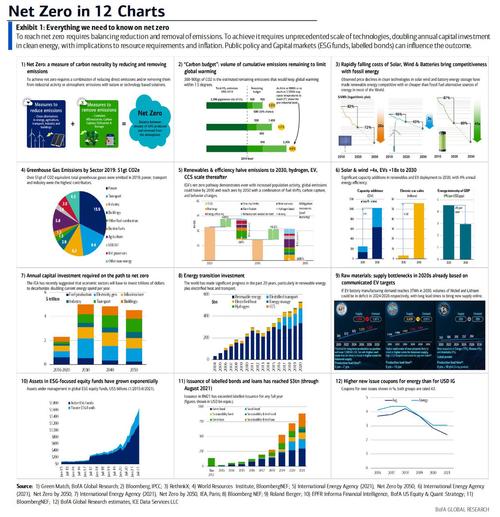 .. and handy cheat sheets…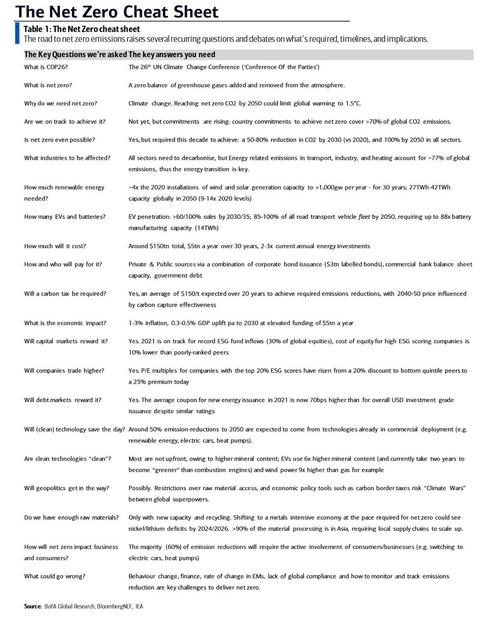 … none of which happen to mention China's role in the "global climate change" crisis of course (after all, can't offend Beijing and lose the biggest revenue stream now can we) and comes at a very precarious time for the green cause, just when soaring energy prices around the globe as a result of the escalating global energy crisis, threatens to crush any grass roots support to fight "global warming." As report author Haim Israel writes:
This is the decade of climate action and COP26 will be the tipping point of the race to reach net zero emissions – the balance of reducing and removing carbon emissions from the atmosphere. To achieve it, a transition to clean technologies in all sectors at an unprecedented pace would be required, with the steering of governments and willingness of society. This is the last decade to act. Absolute water scarcity is likely for 1.8bn people, 100mn face poverty, and 800mn are at risk from rising sea levels by 2025. Climate migration could reach 143mn from emerging markets, driven by extreme weather.
None of that is new, of course – and while it is handy to have a centralized compendium of the data, a 5 minute google search can provide all the answers that are "accepted" dogma by the green lobby.
But while we don't care about the charts, that cheat sheets, or the propaganda, what we were interested in was the bottom line – how much would this green utopia cost, because if the "net zero", "ESG", "green" narrative is pushed so hard 24/7, you know it will cost a lot.