Pandemic Panic | When The Food Starts Running Out… by Ken Jorgustin for Modern Survival Blog
A short while ago, I wrote an article which asked the question to our readers, "When do you raise the drawbridge (close the gates, so to speak)?".
[ Read: "What's Your Coronavirus Red Flag?" ]
I thought about this in a contemplating serious way. Here's what I came up with…
Most of us know that we can choose to greatly mitigate our risk of catching COVID-19 coronavirus by self-isolation. Though for many, that's easier said than done. And it requires that you are fully supplied to do so.
[ Read: Pandemic Survival Tips ]
Even when going out in public (example: a calculated grocery store run), there are precautions that you can take to lessen the likelihood of catching this thing. Not touching face with hands. Disinfecting the handles on your shopping cart. Going during slow periods. Sanitizing afterwards. Lots of hand washing.
[ Read: Best Time To Go Grocery Shopping ]
Most of you also know that the panic so far has resulted in shortages of toilet paper, disinfectant wipes and sprays, some over-the-counter meds, bottled water, bleach, and a few other things.
Here's a picture of the Toilet Paper aisle taken just yesterday (yes, I'm putting myself at minimal risk to get these photos – though being careful),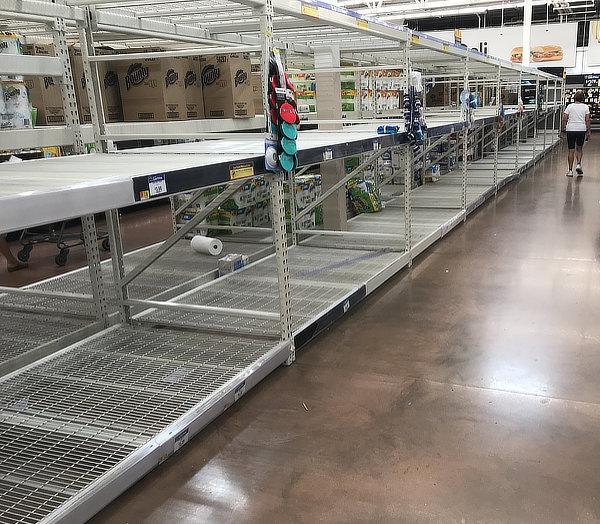 So far it has been toilet paper. HOWEVER…
What Happens When Food Shelves Empty?
This is my Red Flag. That's when it's really time to close the gate. SHTF time.
When the food runs scarce, that's when real dangers will spike from increasingly desperate 2-legged creatures.
I am watching for this. I want to know it's happening BEFORE the masses realize it. Because once they perceive real food shortages, there WILL be a run on food. Just like toilet paper.
Running low or out of food is VERY different from running low on TP, disinfectant wipes, bleach, things like that…