"We Have Hours Left": Turkish Ceasefire On Edge Of Collapse As Erdogan Gives Kurds Hours To Flee Territory from ZeroHedge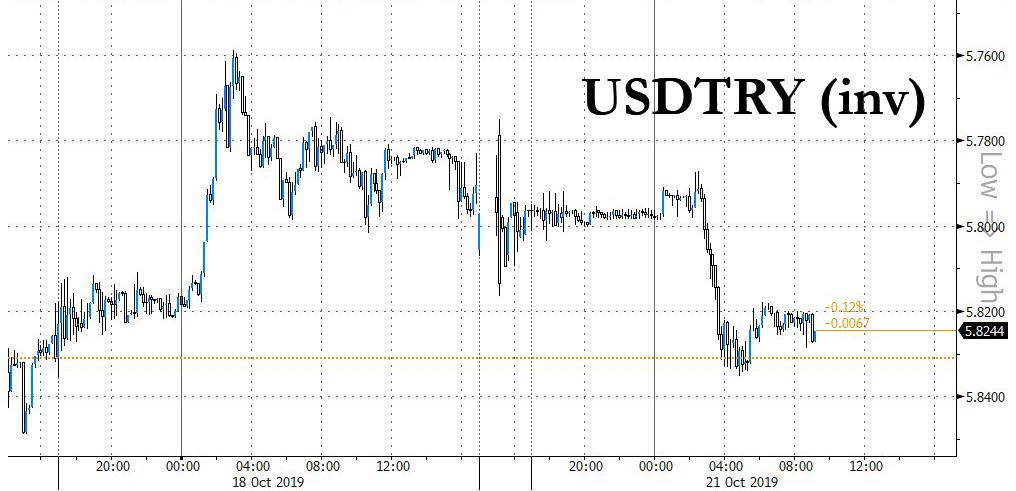 .. as last week's ceasefire – which has just over 24 hours to go – now appears in jeopardy.
On Monday, Turkey gave Kurdish fighters until Tuesday night to leave a narrow strip of territory in northeastern Syria or face becoming targets, setting aside its demand for the militia to withdraw from a much larger "safe zone."
Support Our Site

Now is your chance to support Gospel News Network.
We love helping others and believe that's one of the reasons we are chosen as Ambassadors of the Kingdom, to serve God's children. We look to the Greatest Commandment as our Powering force.
"We have hours left," Turkey's Foreign Minister Mevlut Cavusoglu told a forum organized by state-run TRTWorld television in Istanbul on Monday. "If they don't withdraw, our operation will start. This is our agreement with the U.S."
As Bloomberg notes, citing a senior Turkish military official said, the Kurdish-led Syrian Democratic Forces must exit the 120-kilometer (75-mile) area between the Syrian border towns of Tal Abyad and Ras al-Ayn by 10 p.m. local time on Tuesday. While Turkey still wants the Kurds to withdraw from a swath of frontier territory more than 440 km long and 32 km deep, it recognizes that won't happen before the expiry of a 120-hour truce negotiated by the U.S. last week, said the official who also ruled out any extension of the deadline for withdrawal from a 120-kilometer long frontier.
The clarification over the parameters of the truce on Monday followed threats by President Recep Tayyip Erdogan to restart the offensive if the militants do not pull back from the area.
Turkey's immediate goal is to clear the 120-kilometer strip and so far 125 vehicles have left the area and that the effort to implement the deal was closely coordinated with the U.S., the official said, adding that Turkey plans to set up observation points, including combat units, in the area; he also said that control over the 120- kilometer strip would belong to the Turkish Air Force but that it would take time to fully make sure that the area is cleared from the militants.