NESCO Food Dehydrator, FD-75A Snackmaster Pro | 1st Choice For Entry by Ken Jorgustin for Modern Survival Blog
NESCO has really excelled with their food dehydrator product lineup! I hadn't looked in awhile, but when I did, it surprised me!
Have a quick look, and come back for my opinion:
NESCO Snackmaster Pro
Wow. It's a combination of GREAT price (comparative to when I first bought my own food dehydrator), a really nice tray stacking feature, and the way that their heater fan system works (details below).
Are you landing here from a internet search for Nesco food dehydrator? You've come to the right place. Why? Because so many of our readers have experience with food dehydrators. Ask any question and you will get a response in the comments below from our 'regulars'. Ask away…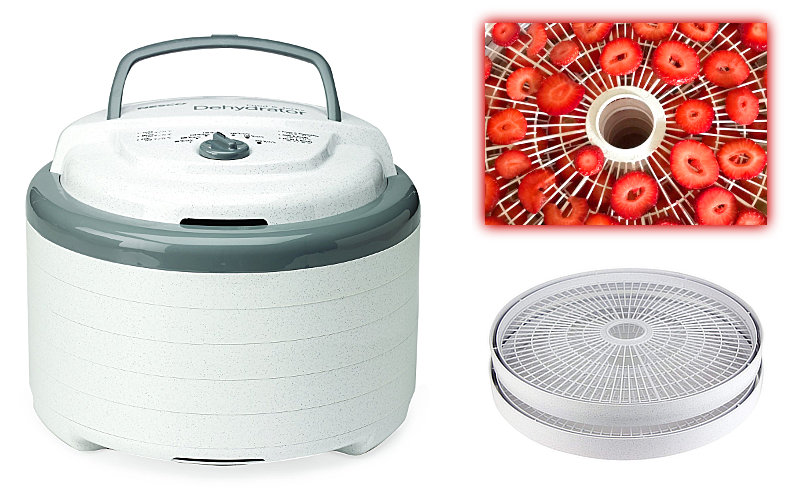 I've written a good bit here on the blog over the years on various food dehydrator topics. Way back in the day, I always recommended a particular brand which really didn't have much competition then in the home consumer space. It was expensive. I bought one. I like it, use it, and still recommend it today, "if" one's budget allows the splurge…
Here's an article I wrote on Food Dehydrator Basics which includes reference to that particular (much more expensive) model.
However, today's NESCO food dehydrator is a "no brainer"! Why? Well, the best reasons are as follows:
NESCO Food Dehydrator Price
I can't list specific prices (they vary somewhat). But, I can tell you that you are not going to find a better food dehydrator price vs. results on the market, in my estimation.
NESCO food dehydrators come in a product lineup that includes 6 models that I'm aware of. But the NESCO FD-75A Snackmaster Pro is my 1st choice for entry level – typical home food dehydrator projects.
The basic difference with the more expensive models is, well, the price. But that extra price goes to more features such as more trays (some up to 30!), a more powerful heater (up to 1,000 watts), timers, etc.. But most people will be perfectly happy with the feature set of the NESCO Snackmaster Pro. Read on…