BIBLICAL ARCHAEOLOGISTS UNCOVER TINY FIRST TEMPLE SEAL INSCRIBED WITH 'BELONGING TO ADONIYAHU, ROYAL STEWARD' IN DIG AT WESTERN WALL IN JERUSALEM by Geoffrey Grider for Now The End Begins
Holding the seal in his hand, Shukron said, "After 2,600 years, you come and hold this bulla, which was used to seal a letter, that was sent 2,600 years ago by the highest minister in the kingdom, it's something amazing… It makes my heart skip a beat," he added.
Inscribed with 'Belonging to Adoniyahu, Royal Steward,' a clay sealing from the 7th century BCE uncovered from earth excavated at the foundations of the Western Wall
The more the mythical Palestinians attempt to assert historical ownership over Jerusalem, the more that God is allowing these amazing artifacts of biblical archaeology to come bubbling up to the surface. Visit our section on biblical archaeology in Israel to see what I mean, these types of discoveries are definitely on the rise.
"Of the increase of his government and peace there shall be no end, upon the throne of David, and upon his kingdom, to order it, and to establish it with judgment and with justice from henceforth even for ever. The zeal of the LORD of hosts will perform this." Isaiah 9:7 (KJV)
Support Our Site

Now is your chance to support Gospel News Network.
We love helping others and believe that's one of the reasons we are chosen as Ambassadors of the Kingdom, to serve God's children. We look to the Greatest Commandment as our Powering force.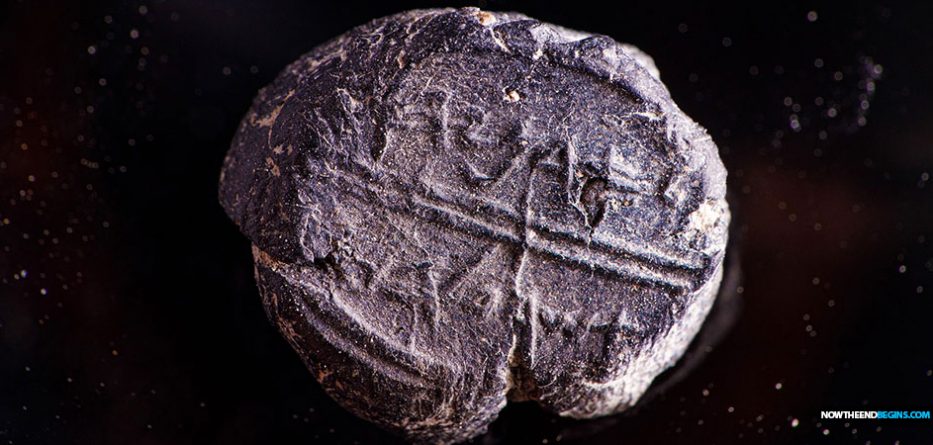 Jerusalem, where the bulk of these discoveries come from, is called the in the Bible the 'city of David' as David was the greatest king God ever gave to Israel. So strongly is King David connected to Jerusalem that the Old Testament prophets tells us that when King Jesus returns at the Second Coming with us on white horses, that He will rule and reign from the Throne of David. With that in mind, now perhaps you can see the huge importance of finding this tiny, little seal from the First Temple era. God is talking, are you listening?
Inscribed with 'Belonging to Adoniyahu, Royal Steward,' a clay sealing from the 7th century BCE uncovered from earth excavated at the foundations of the Western Wall
FROM THE TIMES OF ISRAEL: A minuscule 7th century BCE clay sealing reading "Belonging to Adoniyahu, the Royal Steward," was recently discovered in the City of David's sifting project. In earth excavated from the foundations of the Western Wall under Robinson's Arch in 2013, a national service volunteer some three weeks ago unearthed the one-centimeter inscribed letter sealer bearing the ancient Hebrew name of a character found several times in the Hebrew Bible, Adoniyahu, literally, "The Lord is my Master." (In English translations of the Bible, the name is written Adonijah.)