POPE FRANCIS ISSUES THE ORDER CREATING GLOBAL CHRISLAM COMMITTEE TO IMPLEMENT HIS DECREE ON 'HUMAN FRATERNITY FOR WORLD PEACE' SIGNED IN UAE BACK IN FEBRUARY by Geoffrey Grider for Now the End Begins
The members of the seven member Catholic and Muslim commission include Pope Francis's personal secretary, Fr. Yoannis Lahzi Gaid, and the president of the Pontifical Council for Interreligious Dialogue, Archbishop Miguel Angel Ayuso Giuxot. In a statement on Monday, Aug. 26, Vatican spokesman Matteo Bruni said that Pope Francis "encourages the efforts of the Committee to spread knowledge of the Document; he thanks the United Arab Emirates for the concrete commitment shown on behalf of human fraternity and he expresses the hope that similar initiatives can spring up throughout the world."
This latest Chrislam move by the Roman pope is a bold shot across the bow in creating the end times One World Religion spoken of in the book of Revelation in chapters 17 and 18
If you remember we had told you back in February that Pope Francis went to the United Arab Emirates and signed a covenant called "Document on Human Fraternity for World Peace and Living Together", which we told you at the time was the official declaration of the start of the One World Religion of Chrislam. Since that time not much has happened in the way of progress until last week. What happened last week? The implementation of the covenant.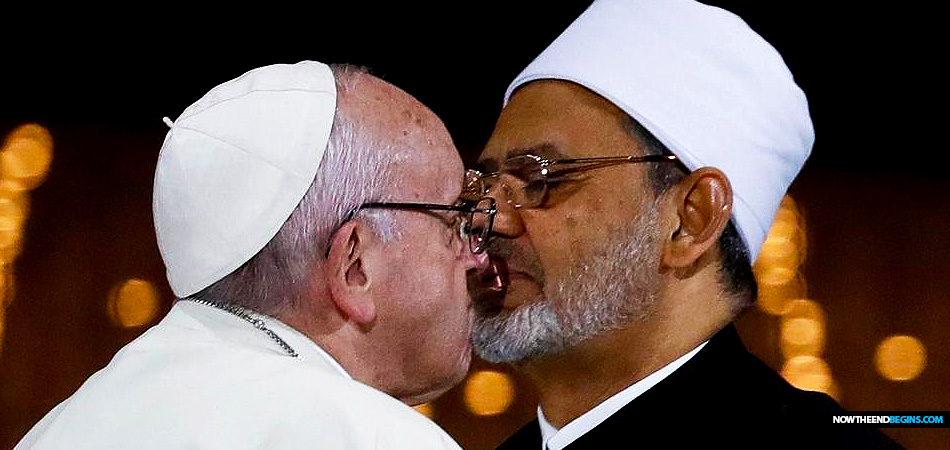 Support Our Site

Now is your chance to support Gospel News Network.
We love helping others and believe that's one of the reasons we are chosen as Ambassadors of the Kingdom, to serve God's children. We look to the Greatest Commandment as our Powering force.
"Because ye have said, We have made a covenant with death, and with hell are we at agreement; when the overflowing scourge shall pass through, it shall not come unto us: for we have made lies our refuge, and under falsehood have we hid ourselves: Therefore thus saith the Lord GOD, Behold, I lay in Zion for a foundation a stone, a tried stone, a precious corner stone, a sure foundation: he that believeth shall not make haste." Isaiah 28:15,16 (KJV)
What other popes have talked about, Pope Francis is bringing to pass, with amazing progress in assembling the end times religion of Chrislam. The Roman Catholic Religion is a counterfeit of biblical Christianity, but that's exactly what is needed to bring about the arrival of the counterfeit Messiah of Antichrist. You are watching Mystery, Babylon rising before your very eyes, as she prepares to take her prophesied place on the end times stage.
"And upon her forehead was a name written, MYSTERY, BABYLON THE GREAT, THE MOTHER OF HARLOTS AND ABOMINATIONS OF THE EARTH. And I saw the woman drunken with the blood of the saints, and with the blood of the martyrs of Jesus: and when I saw her, I wondered with great admiration." Revelation 17:5,6 (KJV)
Could Pope Francis be the one? I don't know but I know this much. He has gone further than any other pope before him in the 1,700 year history of the Catholic Church towards reaching that goal.
Bishop Schneider says Vatican is betraying 'Jesus Christ as the only Savior of mankind'
FROM LIFE SITE NEWS: Last week, the Vatican announced that a multi-faith "Higher Committee" had been established in the United Arab Emirates to implement the "Document on Human Fraternity for World Peace and Living Together," which Pope Francis signed on Feb. 4, 2019, in Abu Dhabi, together with Ahmad el-Tayeb, Grand Imam al-Azhar, during a three-day apostolic visit to the Arabian Peninsula.
Members of the seven member Catholic and Muslim commission include Pope Francis's personal secretary, Fr. Yoannis Lahzi Gaid, and the president of the Pontifical Council for Interreligious Dialogue, Archbishop Miguel Angel Ayuso Guixot.