Hungary Decries 'Wall of Silence' Concealing Christian Persecution by Thomas D Williams, Ph.D. for Breitbart
ROME — Despite massive persecution of Christians on a global scale, a "wall of silence" has been erected around the problem, lamented a Hungarian minister Monday.
Mr. Tristan Azbej, Hungary's "State Secretary for the Aid of Persecuted Christians," sent around a summary of a speech he gave two weeks ago at the 2019 Ministerial to Advance Religious Freedom, hosted by the U.S. State Department in Washington, DC., in which he explains why Hungary has focused attention on Christian persecution.
The Hungarian government has set up the aid program because "Christianity is the most persecuted religion in the world" and "Hungary is a Christian nation," Mr. Azbej said in his Twitter post.
Support Our Site

Now is your chance to support Gospel News Network.
We love helping others and believe that's one of the reasons we are chosen as Ambassadors of the Kingdom, to serve God's children. We look to the Greatest Commandment as our Powering force.
"My title is State Secretary for the Aid of Persecuted Christians. I believe I am the only government official in the world with this title," Azbej begins in the embedded video of his July 16 address to the Ministerial, provoking spontaneous applause.
Noting that the Hungarian government set up a specific aid program for persecuted Christians back in 2016, Azbej explains that it was a logical thing for Hungarians to do.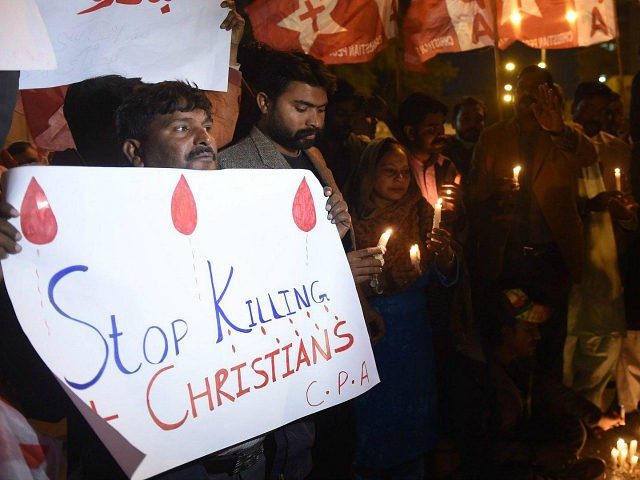 RIZWAN TABASSUM/AFP/Getty Images
"We are a Christian nation. We are proud to say that," he said. "There are not many European countries where politicians are allowed to say such a thing."
"Currently in the world Christianity is the most persecuted religion. Eighty percent of the people who are persecuted for their faith in the world are Christians," he added.
"So, this is why we have set up a program to aid them. But I have to clarify here that we are not only providing direct assistance to Christians; that wouldn't be very Christian like, would it?" he said. "So, our support for Christians is explicit but not exclusive."
"We have seen that there is a neglect, there is a wall of silence built around this problem," Azbej proposed.