"I'm Very Worried" – Chief Architect Fears Heatwave Will Collapse Notre Dame Roof from ZeroHedge
As if the Cathedral of Notre Dame hasn't already been through enough this year.
The latest heat wave to ravage Europe could also cause the fire-ravaged roof of Paris's Notre Dame Cathedral to collapse entirely, France's chief architect of historical sites has warned.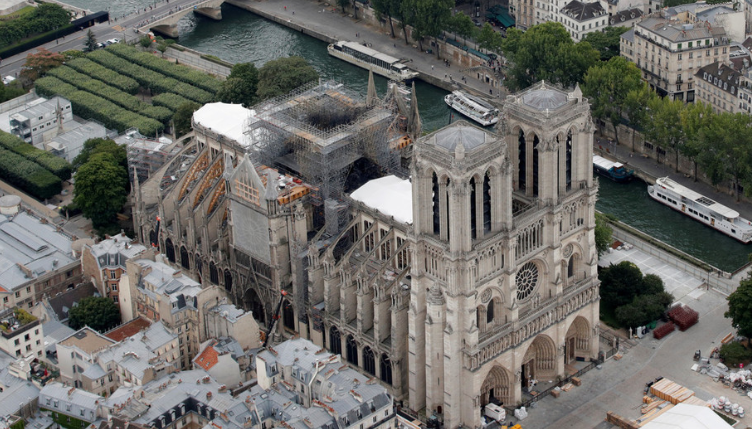 Support Our Site

Now is your chance to support Gospel News Network.
We love helping others and believe that's one of the reasons we are chosen as Ambassadors of the Kingdom, to serve God's children. We look to the Greatest Commandment as our Powering force.
Three months after the incident that nearly destroyed one of Europe's oldest and most popular landmarks, the cathedral's chief architect, Philippe Villeneuve, has warned that the heat wave is the latest threat to Notre Dame.
I am very worried about the heatwave," Philippe Villeneuve, the cathedral's chief architect, told reporters at a press conference on Wednesday.

"What I fear is that the joints or the masonry, as they dry, lose their cohesion and their structural qualities, and that all of a sudden, the vault gives way…"
Much of the cathedral's stone walls are still waterlogged from the day that firefighters had to put out the April blaze. Sensors placed throughout the structure have not yet detected any movement, but Villeneuve worries that the cathedral's vaulted ceiling "could very well" collapse as the hot weather accelerates the drying process.
Temperatures in Paris set a new record for the highest on record at 42 degrees Celsius, though the heat had broken as of Friday, according to BBC.
Notre Dame remains covered in scaffolding and its roof is covered in tarpaulin. More than 100 workers have been clearing out debris and building reinforcements in the structure every day since the fire was extinguished.