The 13 Persecuted Christians Chosen by the State Department to Share Their Stories with the World by MORGAN LEE for Christianity Today
At this week's second Ministerial to Advance Religious Freedom, 30 survivors from all faiths were given a global platform in Washington DC.
At this week's Ministerial to Advance Religious Freedom, billed as the largest human rights event the US State Department has ever held, 30 people were highlighted as survivors of religious persecution and allowed to tell their stories to the world.
Below are the 13 Christian survivors from 13 nations, followed by the non-Christian survivors.
Support Our Site

Now is your chance to support Gospel News Network.
We love helping others and believe that's one of the reasons we are chosen as Ambassadors of the Kingdom, to serve God's children. We look to the Greatest Commandment as our Powering force.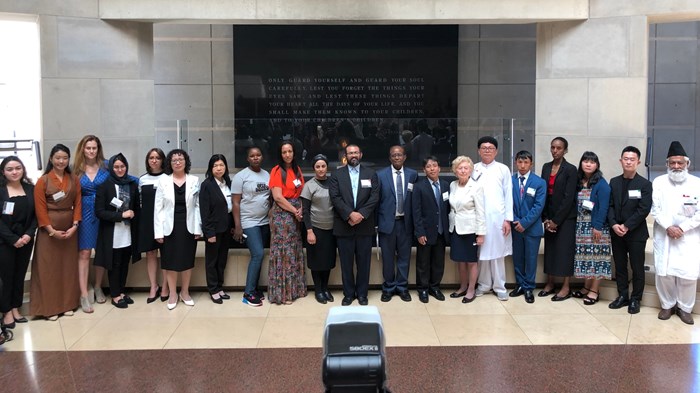 Christian survivors of religious persecution:
China: Ouyang Manping is the wife of Pastor Su Tifan, who on December 9, 2015 was placed under administrative detention after law enforcement raided the three Living Stone Church.
Cuba: Reverend Mario Félix Lleonart Barroso is currently the pastor of the Iglesia Bautista de Waldorf (Baptist Church of Waldorf), where he ministers to the Latino community. While in Cuba, he planted and pastored Baptist churches in the province of Villa Clara and in Havana. In 2016, after years of being harassed, detained, and arrested multiple times because of his faith activities, Pastor Leonard, his wife, Yoaxis, and his two daughters sought asylum in the United States. They arrived in the United States on September 11, 2016.
Egypt: Demiana Kamal Youssef Shehata Hanna is a survivor victim of the November 2, 2018 attack in the governorate of al-Minya, in which armed assailants attacked three buses carrying Coptic pilgrims to the Saint Samuel the Confessor Monastery in al-Minya, killing seven and wounding 19. In addition to being among those attacked, she spoke to the assailants. She was identified with the assistance of Coptic Orthodox Bishop Makarios, bishop of al-Minya, the governorate with the highest incidence of sectarian attacks and tension. She would be accompanied by male relative: Youssef Nady Youssef Shehata Hanna.