THE BIRTH PANGS OF THE END TIMES CONTINUE AS UNPRECEDENTED FREAK HAIL STORM DROPS 7 FEET OF ICE ON MEXICAN CITY OF GUADALAJARA by Geoffrey Grider for Now The End Begins
An estimated 7 feet of hail inundated the 5-million population city, sweeping away dozens of cars and flooding streets 2 meters deep in slush. "I've never seen such scenes in Guadalajara," said Jalisco state Governor Enrique Alfaro to Agence France-Presse, noting that it's a wakeup call for climate change deniers. "Then we ask ourselves if climate change is real. These are never-before-seen natural phenomena. It's incredible." The deluge appeared to fill the streets in a matter of minutes, then rushed along in rivers throughout parts of the city, reported El Debate Noticias. About 200 homes and businesses were damaged in the pellet pummeling, according to AFP. Fifty or more vehicles were swept away in hilly areas, and some were buried under the ice chunks.
Summer hail storms are routine in parts of Mexico, especially Mexico City, the country's capital. But what happened Sunday in Guadalajara, the country's second-largest metropolis and capital of the state of Jalisco was beyond the pale.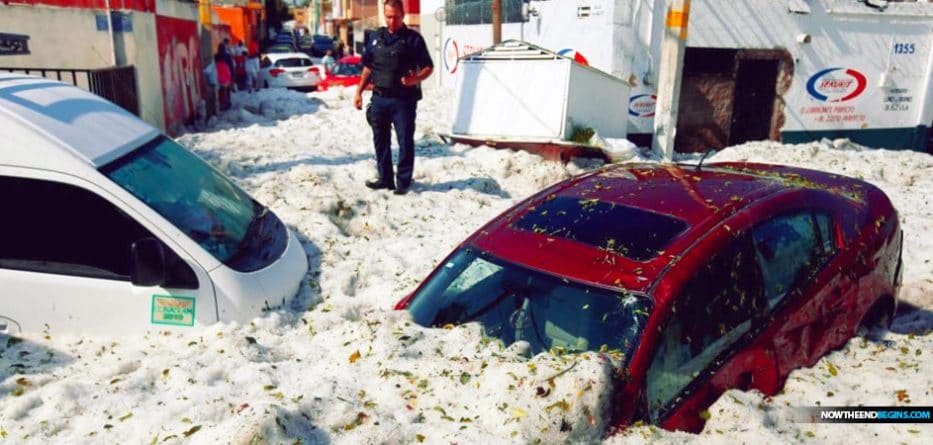 Support Our Site

Now is your chance to support Gospel News Network.
We love helping others and believe that's one of the reasons we are chosen as Ambassadors of the Kingdom, to serve God's children. We look to the Greatest Commandment as our Powering force.
Just yesterday we published an article showing you in great detail from the Bible that the current climate change we are experiencing right now is actually the 'birth pangs' of the Earth as it begins to prepare itself for the coming time of Jacob's trouble leading to the Second Coming of Jesus Christ. And not even 24 hours later, we have this incredible story of a never before seen hail storm in Mexico of this level and intensity.
"And there shall be signs in the sun, and in the moon, and in the stars; and upon the earth distress of nations, with perplexity; the sea and the waves roaring; Men's hearts failing them for fear, and for looking after those things which are coming on the earth: for the powers of heaven shall be shaken. And then shall they see the Son of man coming in a cloud with power and great glory. And when these things begin to come to pass, then look up, and lift up your heads; for your redemption draweth nigh." Luke 21:25-28 (KJV)
For the born again child of God who reads and believes their Bible, these type of stories are not only not scary, but comforting. Comforting because the Bible tells us that, as we begin to see the end times unfold, that we who are saved should LOOK UP, for our Redemption is getting ready to pull us up to meet Him in the clouds. The Earth is getting ready to receive its King…are you?