TEEN VOGUE MAGAZINE UNDER FIRE FOR PUBLISHING ARTICLE PROMOTING PROSTITUTION TO TEENAGE GIRLS WHILE ADVOCATING FOR SEX WORKERS by Geoffrey Grider for Now The End Begins
The author of the piece is clearly aware that they are targeting an extremely young audience, as the opinion piece begins by asking "So, what exactly is sex work?" The op-ed, titled 'Why Sex Work is Real Work' faced immediate criticism and backlash on social media from people across the political spectrum. Written by Tlaleng Mofokeng, founder of an organization called Nalane for Reproductive Justice, the article calls prostitution to be decriminalized and for children to "fund public campaigns to decrease stigma."
Teen Vogue is facing backlash once again — this time for publishing an article advocating sex work to their young readers.
If you just moved here from another planet, you probably are not aware of the relentless assault by the Liberal pro-LGBTQ+P for Pedophile forces to corrupt our children, especially teenage girls. For the rest of you from planet earth, you have no excuse, open your eyes and open your mouth against this wickedness.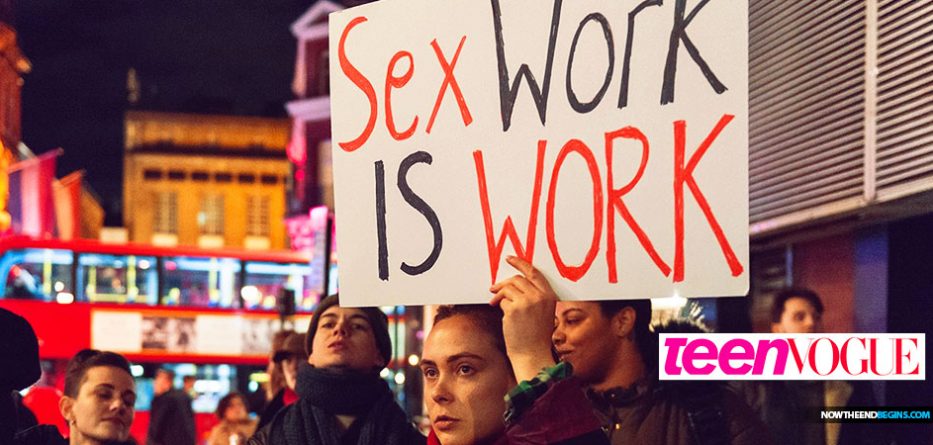 "Woe unto them that call evil good, and good evil; that put darkness for light, and light for darkness; that put bitter for sweet, and sweet for bitter! Woe unto them that are wise in their own eyes, and prudent in their own sight!" Isaiah 5:20,21 (KJV)
The America of my youth, and your youth also, is gone, dead and buried, never to return. And that might be putting it mildly. In its place is a Mad-Max-Meets-Sodom dystopian world where the dark and scary things that usually populate Stephen King's head are now out and freely roaming about. It is the beginning of the end times that will officially kick off when the Pretribulation Rapture of the Church takes place.
"Behold, I have told you before." Matthew 24:25 (KJV)
But just because all this spiritual darkness has been preordained and prophesied, do not use that as an excuse for inaction on your part.  Maybe there is no last, great end times revival coming corporately for the Church, but guess what? Revival can begin with you, all it takes is one person willing to follow the leading of the Holy Spirit. Click the link at the bottom of this page and order your box of NTEB Gospel Tracts, and start witnessing the truth of the gospel of the grace of God in your town, where you live, right now. Because the wolf is at the door, and he's coming for your children. Do something about it. Now.