I JUST USED PRESIDENT TRUMP'S NEW TECH BIAS CENSORSHIP REPORTING TOOL AFTER FACEBOOK BANNED ME FOR 3 DAYS FOR POSTING ABOUT ISLAMIC TERRORISM by Geoffrey Grider for Now The End Begins
"Too many Americans have seen their accounts suspended, banned, or fraudulently reported for unclear 'violations' of user policies," the site reads. "No matter your views, if you suspect political bias caused such an action to be taken against you, share your story with President Trump."A Twitter spokesperson responded to the new tool saying, "We enforce the Twitter Rules impartially for all users, regardless of their background or political affiliation. We are constantly working to improve our systems and will continue to be transparent in our efforts."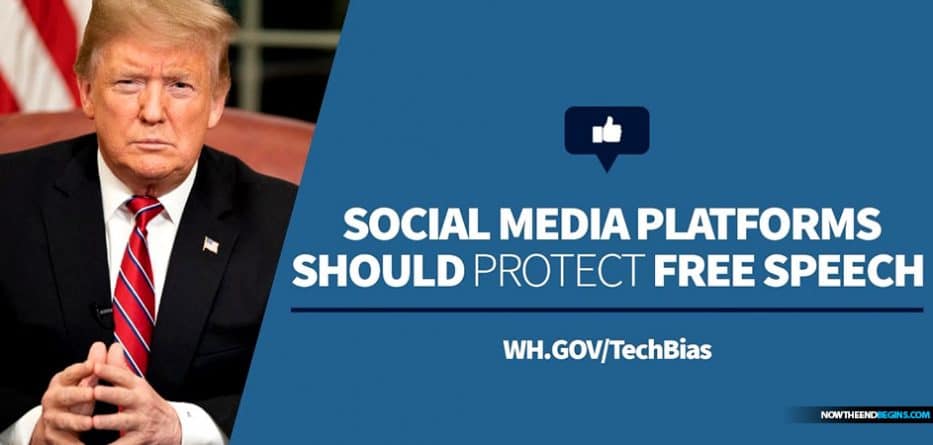 On Wednesday, the White House launched a new tool for people to use if they feel they've been wrongly censored, banned, or suspended on social media platforms like Facebook and Twitter.
Come December of this year, Now The End Begins will have been in operation online and on social media for 10 years. Wow, that's something. During that time I have been routinely blocked on Facebook from posting new articles. Usually the block lasts a week, sometimes it has lasted for a month. Mostly these blocks have had to do with posting to too many groups with a particular story, and triggering an algorithm meant to stop spam posting. So I deal with it and maintain two Facebook profiles so I can always post.
Support Our Site

Now is your chance to support Gospel News Network.
We love helping others and believe that's one of the reasons we are chosen as Ambassadors of the Kingdom, to serve God's children. We look to the Greatest Commandment as our Powering force.
But today, Facebook blocked me for a whole new reason – hate speech.
Islamic terrorists seize control of the Paris airport, screaming that 'France is no longer for the French", but I am guilty of hate speech for telling people about it? Hmm…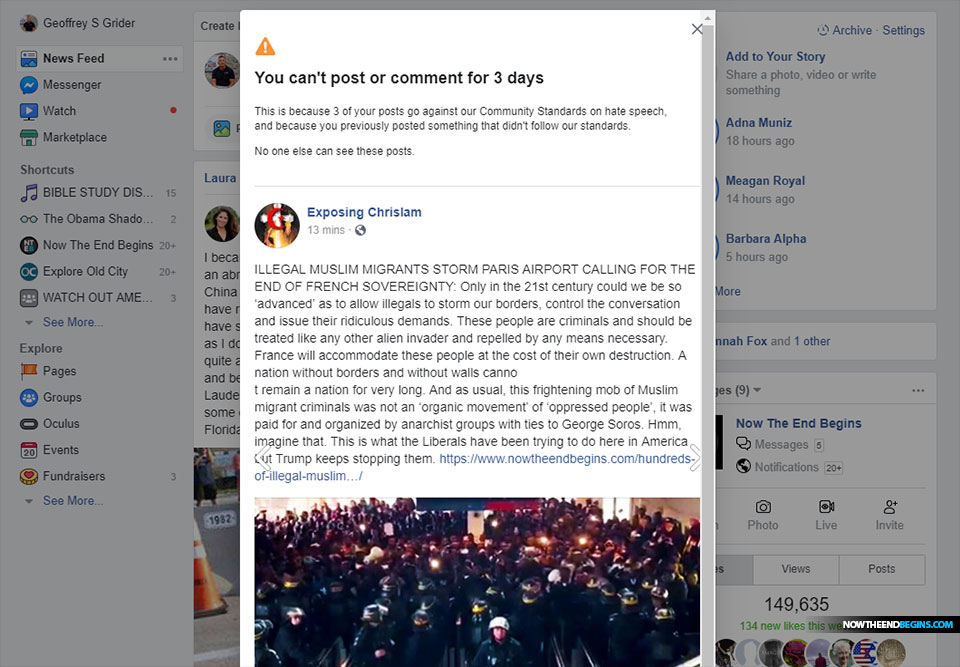 The ban, which Facebook says will last for 3 days and you can see illustrated in the images below, was over an article I published this morning on yesterday's assault by Islamic migrants in France. You can read that story here and decide for yourself if it's 'hate speech' or not. I called the illegal migrants 'criminals' which they certainly are, and called for them to be removed from the Charles de Gaulle airport as soon as possible. I do not see anything 'hateful' in my statements.