Hypocrites: Gun Control Hollywood Slams Trump's Border Agenda While Surrounded By Security Walls and Armed Guards by AWR Hawkins for Breitbart
GNN Note – We're not worthy of protection and security, only our overlords deserve such treatment.
The image above is our constant reminder of the hypocrisy spewing from the pope-on-dope and his band of pedophile priest hiding behind one of the largest walls on the planet.
******
Support Our Site

Now is your chance to support Gospel News Network.
We love helping others and believe that's one of the reasons we are chosen as Ambassadors of the Kingdom, to serve God's children. We look to the Greatest Commandment as our Powering force.
Some of the most celebrated Hollywood stars, many of whom loudly support gun control and rail against President Donald Trump's immigration agenda, have descended upon the 72nd Cannes Film Festival in Cannes, southeastern France, protected by security walls, French soldiers with machine guns, and other armed guards.
The Associated Press reports that Alejandro Inarritu, the Oscar-winning Mexican-born filmmaker of Birdman and The Revenant, has already used the film festival as a platform from which to criticize President Trump's calls for a border wall along the Southern border. Inarritu, who presides over Cannes' jury this year, said, "We know how this story ends if we keep with that rhetoric. We think we are evolving with the technology and social media. It seems every tweet is a brick of isolation attached to ideological things and is creating a lot of isolation and paranoia."
Ironically, Inarritu said this while he and other high-profile celebrities mingle safe and sound behind a wall of armed protection.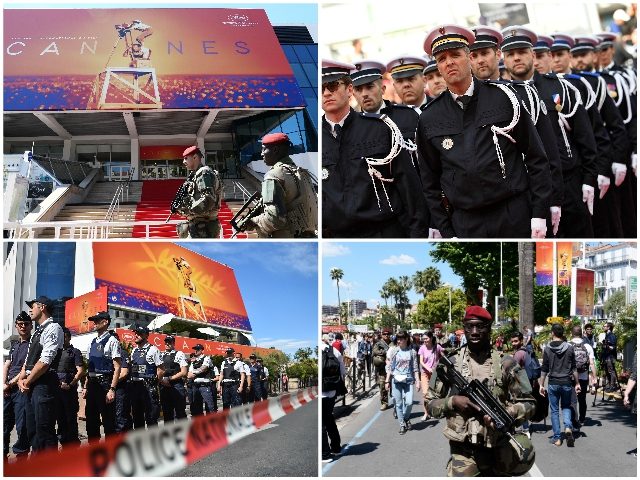 We see this same kind of hypocrisy from pro-gun control Hollywood elites during the Oscars. On February 24, 2019, Breitbart News reported that celebrities attending the event would enjoy near presidential levels of protection.
The Hollywood Reporter noted that "a huge chunk of the [Los Angeles Police Department's] 10,072 sworn officers [would] be on hand" for the Oscars. Moreover, they spoke to an officer who indicated Sunday will be a "mid-to-max deployment day" involving protocols similar to those used when presidents visit.