DERANGED NATION OF ISLAM LEADER LOUIS FARRAKHAN TELLS HIS FOLLOWERS THAT HE IS JESUS CHRIST, MOCKS THE BIBLE AND PROCLAIMS THE END OF ISRAEL by Geoffrey Grider for Now The End Begins
"The real story is what I tried to tell you from the beginning. It didn't happen back there. It's happening right while you're alive looking at it," Farrakhan told the audience. "I represent the Messiah. I represent the Jesus and I am that Jesus. If I am not, take my life."Farrakhan said he makes the deaf hear and dumb speak, and he added: "when I made the call in 1995 to Black people, with the Million Man March, that was like Jesus calling Lazarus and Lazarus came forth."He said the cross is for him.
Nation of Islam leader Louis Farrakhan, who has reportedly led a chant of "death to America" and recently called for a separate state for black Americans, has made more controversial comments, claiming to be Jesus and clarifying his "anti-termite" statement.
Louis Farrakhan, in one brief, fiery and blasphemy-filled speech gave the world a master class on the nature and characteristics of Antichrist. How did he do that? He did it by mocking God's word and declaring it to be untrue, by saying that he is the promised messiah, and by pronouncing the death of Israel and the Jews. Those three things will absolutely be done by Antichrist when he arrives on the scene in the days after the Pretribulation Rapture of the Church in the time of Jacob's trouble.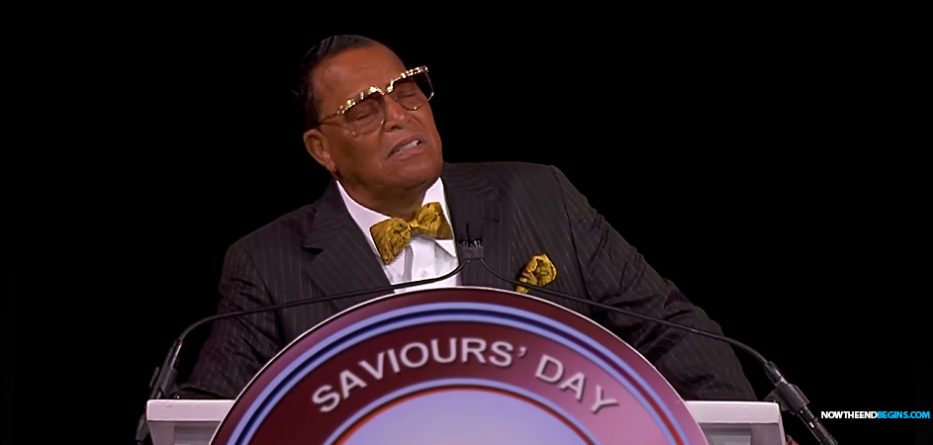 Support Our Site

Now is your chance to support Gospel News Network.
We love helping others and believe that's one of the reasons we are chosen as Ambassadors of the Kingdom, to serve God's children. We look to the Greatest Commandment as our Powering force.
"And every spirit that confesseth not that Jesus Christ is come in the flesh is not of God: and this is that spirit of antichrist, whereof ye have heard that it should come; and even now already is it in the world." 1 John 4:3 (KJV)
The Nation of Islam is a rabidly anti-semitic organization that promotes black nationalism through racists threats, statements and provocations. As you can see from their leaders proclamations, they are also a group that is satanic in nature. Only two type of people claim to be Jesus Christ, crazy people and possessed people.
Louis Farrakhan is the worst of both worlds.
Farrakhan claims to be Jesus in 'Saviours' Day' address: 'I am the Messiah'
NEWS: Farrakhan made many shocking claims during NOI's Saviours' Day keynote address in February at the United Center arena in Chicago. He told Rep. Ilhan Omar "you have nothing to apologize for," and he praised her fellow colleague freshman, Rep. Alexandria Ocasio-Cortez.