Four in five Vatican priests are gay, book claims by Harriet Sherwood for The Guardian
GNN Note – To use a progressive liberal term here – "If true" this could create a huge problem for the Vatican. The past three weeks have been a disaster for the Pope. Maybe he should've just stayed behind the gigantic wall he all his buddies are safely housed.
Here's a picture of the "unChristian" wall surrounding the Vatican…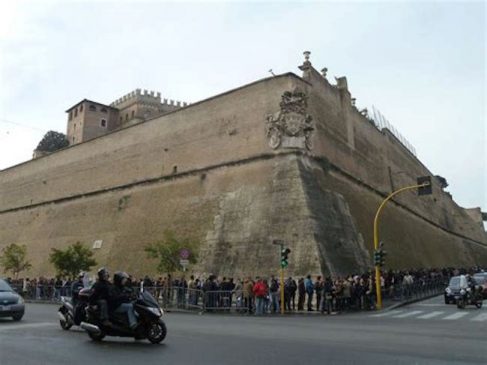 Support Our Site

Now is your chance to support Gospel News Network.
We love helping others and believe that's one of the reasons we are chosen as Ambassadors of the Kingdom, to serve God's children. We look to the Greatest Commandment as our Powering force.
******
French journalist's book is a 'startling account of corruption and hypocrisy', publisher says
Some of the most senior clerics in the Roman Catholic church who have vociferously attacked homosexuality are themselves gay, according to a book to be published next week.
Eighty per cent of priests working at the Vatican are gay, although not necessarily sexually active, it is claimed in the book, In the Closet of the Vatican.
The 570-page book, which the French journalist and author Frédéric Martel spent four years researching, is a "startling account of corruption and hypocrisy at the heart of the Vatican", according to its British publisher Bloomsbury.
It is being published in eight languages across 20 countries next Wednesday, coinciding with the opening day of a conference at the Vatican on sexual abuse, to which bishops from all over the world have been summoned.
Martel, a former adviser to the French government, conducted 1,500 interviews while researching the book, including with 41 cardinals, 52 bishops and monsignors, 45 papal ambassadors or diplomatic officials, 11 Swiss guards and more than 200 priests and seminarians, according to a report on the Catholic website the Tablet.
Many spoke of an unspoken code of the "closet", with one rule of thumb being that the more homophobic a cleric was, the more likely he was to be gay.
Martel alleges that one Colombian cardinal, the late Alfonso López Trujillo, who held a senior Vatican position, was an arch-defender of church teaching on homosexuality and contraception while using male prostitutes, the Tablet said.
The author found that some gay priests accepted their sexuality and a few maintained discreet relationships, but others sought high-risk casual encounters. Some were in denial about their sexuality.