More Than 215 Million Christians Are Victims Of Religious Persecution In The World Today By John C. Velisek – Retired, US Navy – All News Pipeline
In this recent column, I discussed Rashida Tlaib and the anti-Semitism she has brought to the Congress. Look at her first day on the Hill and her celebration of being elected. A look of those who surrounded her is an indication of what will be expected in the future.
She is also an active member on a Facebook page "Palestinian American Congress" whose members spend a great deal of time demonizing Jews and those that support them. The founder of the site was MAHER ABDEL-QADER an outspoken activist who was a key fundraiser for Tlaib.
Looking back at those who surrounded her during her celebration and first days in office is informative of what her direction to destroy our country will take. Her vulgar language towards our President was just a small portion of a more serious issue that the media has ignored and of which most American people are not aware. Let's take a look at the people who celebrated her victory.
Support Our Site

Now is your chance to support Gospel News Network.
We love helping others and believe that's one of the reasons we are chosen as Ambassadors of the Kingdom, to serve God's children. We look to the Greatest Commandment as our Powering force.
One is RASHA MUBARAK who is the CAIR Orlando Regional Director. This is the same group that led a Hamas protest outside the Israeli consulate in Miami while shouting "We Are Hamas".
CAIR-Florida also feted Imam Kifah Mustapha as a speaker at a fundraising dinner in Orlando. CAIR and Mustapha were both named co-conspirators in the Holy Land Foundation trial that directly supplied funds to HAMAS as proven by the U.S. State Department. This is the same group that carried a Hezbollah flag at a rally in Orlando and refused to discuss it because the reporter who asked about it was a Jew.
Another person in question is HUWAIDA ARRAF, co-founder of the International Solidarity Movement, an entity with a long history of supporting terrorism. This group has held a recruitment meeting calling for the increase in international activists. HUWAIDA ARRAF has admitted that the ISM assists and works with Hamas, Palestinian Islamic Jihad and the Popular front for the liberation of Palestine.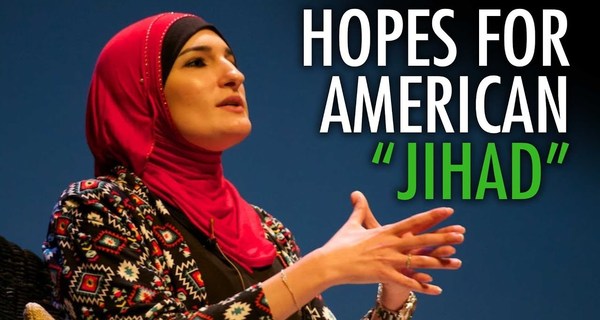 The co-founder of the Women's March LINDA SARSOUR was also a part of the celebration. SARSOUR is a noted jihadist who has called for has called from Muslims here in the United States rise up to perform Political jihad against the Trump Administration. Her relationship with the Anti-Semite Louis Farrakhan is now well known. Sarsour spoke at a Nation of Islam event where her attacks on Israel are well documented. She accuses the media of ruining her reputation because all of them are Jewish. She refuses to condemn Louis Farrakhan describing Israelis as "
satanic
" "
termites
" or describing Hitler as a great man. On the contrary, all of the people mentioned declaring that President Trump is Hitler. If that is the case, wouldn't he be destroying the Jews in the words of Farrakhan, "
finish the job?
"