A Fire Starter Kit List by Ken Jorgustin – Modern Survival Blog
GNN Note – Please, I beg you, get a box of strike anywhere matches, place them in a ziplock bag with a moisture absorbent device you take out of a medicine bottle and throw away. Also, place some steel wool in the bag. This is a very, very simple fire building kit that everyone should have on hand.
******
I keep a fire starter kit in a Ziploc bag for each of my various packs (hiking, any outdoor excursion), 72 hour kit, and other emergency kits that I have:
Support Our Site

Now is your chance to support Gospel News Network.
We love helping others and believe that's one of the reasons we are chosen as Ambassadors of the Kingdom, to serve God's children. We look to the Greatest Commandment as our Powering force.
– 72-hour kit
– emergency kit in your vehicle
– bugout, evacuation bag
– get home bag (one at work?)
– day pack for hiking
– packed while hunting / fishing / outdoors
– camping equipment
– Emergency kit in your ATV, 4-wheeler
– kit in your snowmobile
– boating emergency kit
– EDC, everyday carry (at least a lighter)
The ability to make fire is one of the essentials of survival. And having more than one way to make a fire is very good preparedness. It's suggested that you have the ability to make a fire within 5 minutes.
FIRE STARTER KIT LIST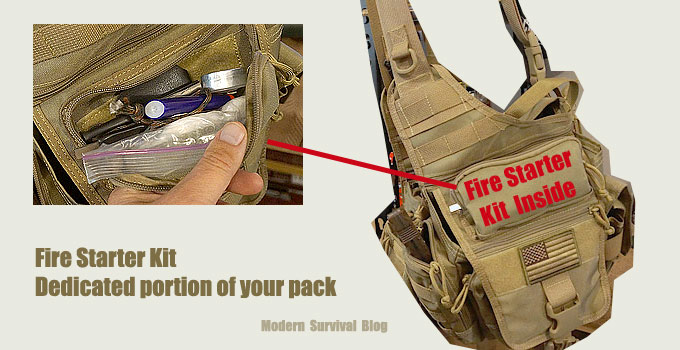 Within my fire starter (Ziploc) kit, or kept in its own pack compartment, I generally may keep any of the following items:
BIC LIGHTER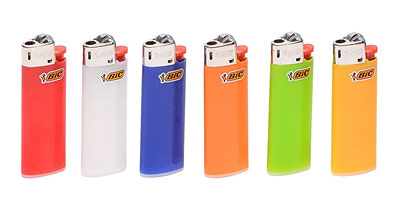 While a BIC type lighter won't work reliably under all conditions, it is by far the simplest and quickest way to get a fire started. I try to keep one in my pocket for every day carry, just in case (and in my kits). It will perform better in cold weather if it was warm in your pocket.
ZIPPO LIGHTER
The Zippo is nice in that it can light up, burn for a while without melting. It can stand there without you holding it and it will stay lit. This frees up both hands for task.
A plastic Bic type of lighter (though it has its uses) needs your thumb to always be on the valve to keep it lit. And it will melt, come apart after a min or so of being on.
STRIKE ANYWHERE MATCHES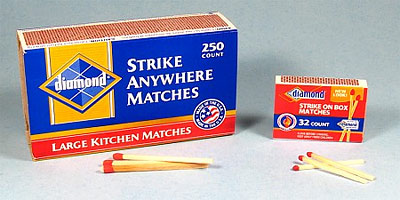 'Strike Anywhere' matches are a great backup to a lighter. They're even more effective starting a fire when bundling two or three of them together. Strike into a nice big flame.